Special Services
Information on all USPS Special Services listed below is available on the USPS web site.
Registered Mail
Registered mail protects valuable and important mail. You declare the value of your mailing and all corners and seams must be sealed. Only first class and priority mail may be registered.
Certified Mail
Certified mail provides the Post Office and sender a record of delivery. No insurance coverage is provided.
Insured Mail
You can get insurance for Standard-Class mail or First-Class mail containing Standard-Class matter. Liability for insured mail is limited to $600.00. Payment will be made to you for lost, rifled, or damaged mail if it is insured.
Business Reply Mail
Business Reply Mail (BRM) is a service from the US Postal Service that allows you to send any number of reply pieces (envelopes, cards or self-mailers) and pay only for those that are returned to you. BRM is designed to be automatable so delivery times are comparable to First Class mail. BRM is the most cost effective way to provide reply pieces for a wide variety of mailings, including fundraising solicitations, surveys, subscription renewals, etc. Here's a sample: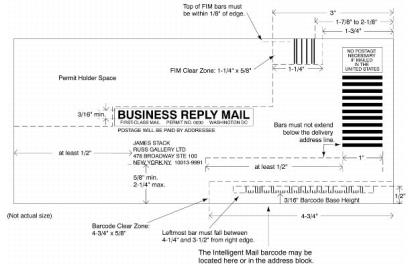 Mail Services maintains the Business Reply Mail account with the US Postal Service and can provide contact information for proper USPS mail piece design.
IMPORTANT! If you are sending a bulk mailing at the automation rate (whether it's First Class or Non-Profit Standard), the Postal Service requires that enclosed reply pieces must be Business Reply Mail. Failure to comply with this requirement will result in paying higher postage.
Return Receipt
A return receipt is your proof of delivery. It identifies the article by number, who signed for it and the date it was delivered.
Priority Express Mail (formally Express Mail)
This service is available for those items that just have to be there tomorrow. IMPORTANT: Not all ZIP codes have Express Mail Services so check the USPS web site to see if service is available to your desired destination.